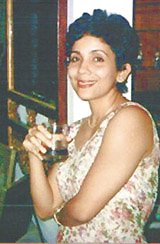 This young woman was born from a couple who came from two different sides of the globe, and she is a smart kid. Has her Mom's genes on fulfilling obligations and being a responsible person, and has her Daddy's brains. She was made on Purwoto Pekih (a friend's) army cot in Paris in the mid '60s.

Just 10 days before graduation, Laila arrived from her university in Bandung, the Institute Technology of Bandung (I.T.B.), a 220-year old former Dutch technical school
which is Indonesia's prestigious equivalent of America's M.I.T., about 200 kilometers from Jakarta and tells her Dad, "I don't think I'll graduate," she said remorsefully.
"Why?" he asks.

I feel I won't graduate ...

"Because as I was presenting my thesis and nearly finishing", she said, "I was told by the examiners to stand aside. My other friends were called in, presented their thesis, I stood aside, and then the professors would ask me a few questions, then other friends came in, they then ask me a few more questions, I stood aside again, and just stood there for hours and hours watching my friends go by and again answering some other questions. No reaction at all from the professors about how I did," she said unhappily. (Right foto with her younger brother Cyrus who shares the same birth date at Arto's wedding, August 12, 1995).

"But that doesn't mean you'll not graduate," her Dad said. "But I feel I won't graduate", she insisted.

Her Dad wasn't terribly worried because throughout her school life she was always in the top 3 of her class.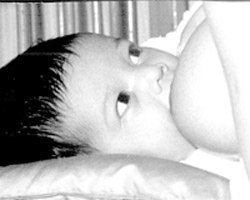 So, 10 days later she comes in from Bandung all beaming, and said, "I graduated!"
"Well, that's good honey," her Dad said. "Yes," she continued, "with cum laude". Atta girl, her Daddy thought, must be due to her Mom's conscientiousness to do a good job and her Daddy's brain, he thought immodestly and thinking of the proverb "the acorn doesn't fall far from the tree".
Her parents were later informed that her faculty, for the first time during its 27 year of existence in 1961, awarded this honor in environment in 1988 and Laila was its very first recipient. (Right foto 1965, Laila feeding from her Mom's breast. This breasty foto won a 2nd. prize in an international British foto contest because of Laila's expression as a baby towards her Mother ... and to show breasts were sort of 'daring' in those days. Now ... well, anything goes).
So on that day her proud parents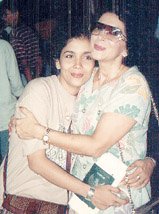 journeyed 200 kilometers (125 miles) to Bandung and sat in the back of the 2,000 seat auditorium. While other parents with cum laude kids had front seats, her's ended up as the doormen because the doors kept banging on their backs each time somebody entered or left the auditorium. But it was okay because what was important she made it, and left her parents feeling, "we did our part. The rest is up to her now". When her name was announced through the loudspeakers, the auditorium broke into such a pandemonium that her name and the summa cum laude honors she received were nearly but drowned by the whistles and clapping from the men and the women, a demonstration that she was popular with both men and women classmates. (Left foto, off to the Univ. of Hawaii for postgraduate studies, 1993, which she initiated, got a scholarship for on her own – without her Mom or Dad's intervention, or a penny from them. She even travelled "business class", paid for by her scholarship which her parents thought was unusual. They must have lots of money floating around).


Somebody wants to buy me for 20 pigs ...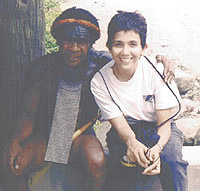 One day 2 years ago she comes in from a field trip in Irian (now West Papua as of 2000) about 7 hours commercial jet flight from Jakarta and announces to her parents, "Somebody wants to buy me for 20 pigs and marry me, and if my parents agree quickly, he'll throw in 2 cows for good measure."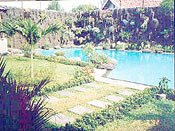 "Sure," her Dad said with a straight face, "and where will we keep the pigs? We sure don't have space in Mom's backyard."(Right foto, with her suitor from Irian. Notice the "koteka" leaning against his left leg. A koteka is a hollow piece of wood covering the male organ and is part of their dress makeup. Different cultures, different ways of covering one's self. Indonesia is a huge country, some 5,600 kilometers in width that needs some over 10 hours to cross by jetliner, a population of some 215 million people, is the world's 4th. largest nation, and has some 580-plus ethic groups and cultures. Left foto, her Mom's backyard, just enough for a couple of pigs and a few more if they like spending their whole day in the water. Never mind the cows).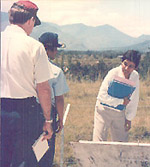 She now has some 10 years working experience, in Canada, U.S.A., Holland, Japan, Indonesia, and other areas of the world including a 2 years postgraduate stint at the University of Hawaii. Her U.S. professors who came for a visit to Jakarta just before her Hawaiian graduation praised her and told her parents, "She was one of the best students we've had the pleasure of working with." (Left foto, field inspection somewhere in the boondocks & giving instructions).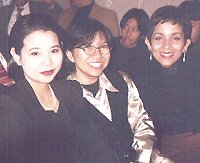 Her former boss, a guy from a U.S. government agency in Jakarta, who she was pretty close with (otherwise, nobody in their right mind would tell the boss what she told him) was approached by Laila and told him,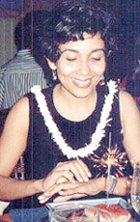 "So and so offered me a job," she said. "What do you think?"
"If he steals you from me, I'll kill him," he replied, sort of stopping all further discussions. (Right foto, on a working trip to New York, with her sister in law, Dewi, and Hessy, her pal who is also in the same profession).


She's very concerned about the local environment ...

Laila this year (1999) left her job in the U.S. Government agency because, she felt, that they were not doing enough for the world's 4th. largest country population wise and one of the world's largest geographically, and is one of the world's major "lungs" covering an area equivalent to London, England past Europe to Tehran, Iran, to cross from one side of its border to the other. She is now with an American-Indonesian consultant company who stole her from that U.S. Government Agency, and hopes that in this company her skills and efforts can be put to better use.
(Left foto, one of those office-initiated impromptu birthday celebration on a doughnut). One day, she was offered to do a job at a United Nations agency. After studying the project and meeting the other team members for a month to see if she could do it, she tells her Mom that she's worried because her 'competition' were PhDs from all over the world and said, "I know, I'll be outclassed." Sometimes later when she finished the job, her parents met with this U.N. boss and he said: "Did you know "Laila's work was better than all those others with their PhDs?"
"Really?" her Mom says, "that's nice."
That's Laila, our 'Baby Girl' always underestimating herself.