Grandparenting from the Life-Connection Website with Music Tracks
---

Commentary by R. Adji Suryo-di-Puro – Father since 1965 & Grandparent since 1995. Jakarta, 28th. January, 2000 • Please click this line for Cyrus' other 30-plus music tracks that he and I used to play and accompany on CDs & tape* • ¹MIDI music from Bourbon Street & ²From MidiWorld • ³Sequenced (played & arranged) by Devian, a 30-year Indonesian graduate from the Berkeley School of Music & used with permission • º Sequenced by Jan Halsema & used with permission • *Wherever possible and available permission was requested from their composers. ** Used with permission. All music tracks are available for non-commercial use. About grandparenting: Grand Parents do not spoil their grandchildren.


Grandchildren's parents (our sons and daughters) accuse us parents of spoiling their children. But the reality is grandparents have learnt many things after going through the University of Life parenting their own children.

When grandchildren enter into their lives, these lifetime lessons come into play naturally, without any forethought or consciousness. (Baby Laila 3 years and 35 years later as an internationally-experienced environment engineer, and former project officer head at the U.S. Government's U.S.A.I.D. environment project. Her page is at "The smart young woman environmen & city planning engineer").

Disciplining grandchildren ...

Assuming everything being "normal" (grandchildren with parents), and assuming the majority of grandparents are like ourselves described herein, grandparents like ourselves should let their sons/daughter assume the responsibility of disciplining their children. If the grandparents do not like the way their grandchild is disciplined, it comes with the territory. Remember the old days when you were disciplining your children ... would you, or did you, like your parents telling you what to do with your children?

For example: a grandchild breaks a crystal vase costing US$ 1,000. The grandparent, although disappointed, will not scold the grandchild and thinks to himself it was his own fault for not putting it away. Naturally, the grandparent will tell the grandchild that next time, they should not play with things that do not belong to them. Besides, that $1,000 vase is nothing compared to mentally hurting their grandchild ... for instance, a grandparent who is "always" angry about something, and because of this the grandchild assumes the grandparent doesn't like him. Good grandparents realize that the littlest thing, both negative and positive, will stay with their grandchildren throughout their lives.

Good grandparents do not want to contribute to any hangups their grandchildren may have in the future. Unfortunately, there are bad grandparents, as there are bad parents.

A grandparent should behave as if s/he is an entity that can do no wrong – is above taking sides, and is therefore the final authority in the event there is a dispute between the grandchild and his parents. This ideal is difficult to achieve, but a good grandparent should strive to be this entity.

Above all, don't let your grandchildren (in fact, even our own young children) go outside the family circle for advice, that is, what "other people" say is better than what his own family says. As long as the grandparent strives to be an accepted final authority – and acceptance is in the eyes of your grandchild, not yours – your grandchild will always look up to you as the ideal grandparent you deserve to be.

Parenting ...

Another example: many times parents are short with their little children because of many things in their minds – jobs on the line, failed promotions, failed businesses, and 1001 other different reasons. When you are in a bad mood and your child is cranky, fussy about not eating his/her dinner, and about something or other, pay attention and ask "what's the matter?". If your child cannot articulate him/herself, remember that once upon a time you were like that little child, and your parents had to put with this "nuisance", too.
Remember that whatever problem you are facing, they are not the cause of it, and they are not your enemy. They are there because you brought them into this world.
(Baby Arto & 34 years later as an about, well-travelled diplomat and father of two boys. Until June 2000 was a diplomat at the United Nations, New York. Takes after his Grand Dad [deceased], a founder of the Indonesian Foreign Office [that's the State Department for Americans], a good representative of Indonesia's present generation of some 160 million young people under the age of 30 years – from a total population of 215 million people, the world's 4th. largest nation after the U.S. – who was promoted 3 times in 4 years which normally takes 12 years to achieve. Click here for his page).
Children have feelings ...
Children, whether 1 year old babies or teenagers have feelings. This also means that you should not loose your temper. You should not raise your voice in private, and especially not in public. You can do that when they are teenagers, especially when they should know better.
Even though they are babies, they understand how it is to be scolded in front of strangers and it's not good for their self-esteem. Babies and small children have their self-esteem, like you as an adult have yours. (18-year old Cyrus scowling after Dad told him off about riding "dangerously" on the 157 HP, 1,100 c.c., 0-100mph/0-160 kph in 6.3 sec. 200 mph-capable Kawasaki Ninja ZZR, the Lamborghini and Ferrari of sport bikes. Even though Dad later on discovered that Cyrus outmanuevered and ' beat' a California school-trained motorbike racer on one of West Java's mountainous Swiss-like roads, it was a big mistake telling him off in front of other big bikers. Dads make mistakes, too. Click here what that motor-bike racer recounted to his Dad.).
And remember ...
Never underestimate the intelligence of your children, and never think you always know more than they do about everything. Remember, they are a combination of yourselves, and most likely a better combination of either one parent.

You will be surprised if they may know about certain things you yourself did not know about. It is a good idea to listen to them once in awhile, instead of telling them all the time what to do. You never know they may reveal some unknown insight to you.
If what they know may be misinterpreted, or be misconstrued by them, this is where you come in as a parent and guardian in putting their misconceptions back on track.
Talk to them just as if you were talking to your buddies because you will be surprised what you can learn from them ... and they can be your real buddies.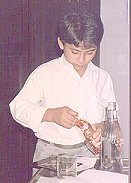 Even after 36 years of parenting, and now grandparenting, we are still learning.
(Baby Cyrus, top left at 23 and a buddy to his parents. Read about him by clicking the underline, and read how we lost our buddy at the age of 25 years on January 28th., 1999. We realized then that our Cyrus – or any of our children – did not really belong to us when God said to us in a poem,"I'll lend you my Child for awhile...". Read also about our true-life experiences on How to handle Bereaved Parents – the Do's & Don'ts. The Many Experiences We Had With Him during the first year after Cyrus' departure – and how after we lost him, we are convinced more than ever there is an after-life. Cyrus, right photo 12 years old, opening Dad's birthday presents).
How you treat your children while they are still your responsibility will come back to you when you are old. They are helpless now, but they will not be later on. You may be king of the hill now, but you won't be the king later on.
What goes around comes around.
p.s. Visualize these photos as if they were your own children.
---
The other stories: The former (James Bond) Field Operative and his girl as parents • Now Grandparenting • The Smart Women Environment & City Planning Engineer • The Diplomat • The Businessman whom God said to us "I'll Lend you My Child for awhile..." - There is an afterlife: Our 1st. year experience - Our Son's smile 18 hours after crossing to the other dimension - The Do's and Don'ts in facing bereaved parents – from the bereaved's perspectives - A Road Map for the Bereaved – from the bereaved's perspectives • More stories
---
"Did you know that Indonesia ..."
Click on the sunset photo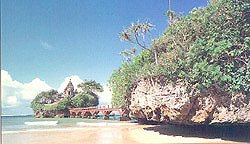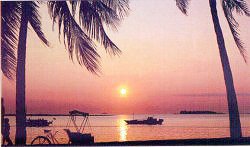 Did you know that Bali is the "Island of the gods..."
Click on the other photo
Planning an overland trip to Bali? Tell your friends