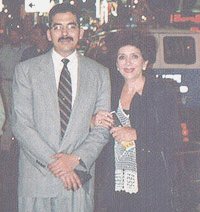 First son and Minou and Adji's second baby ...well, a big baby at 34. All Parents tend
to think of their grown-up children as babies which they can't help because from helpless 3.5 kilo (7.7pounds) little things to 170 pound, 185cm (6 feet) grownups, parents were there. September 29th. is his birthday.

His Dad was only 24 when he was a secret field operative (that's the kind of people who made trouble for the communists dramatized in James Bond movies, but do exist in real life), making Daddy a baby operative (in Grandma's eyes). With Arto's Mom going to a theater in Broadway, New York, to see the Titanic August 1998. (Right foto 1966 in Germany as a baby)

Arto takes after his Granddad, Raden Mas Suyoto Suryo-di-Puro, who was one of the founders of the Indonesian Foreign Ministry (that's the State Department for Americans) in September 1945.

Arto had a secret wish to become a fighter pilot, had Jane's books and posters on planes, war ships, etc.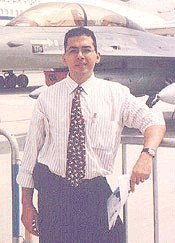 He was very combative at school, once took on five 12th. graders kids while he was a 9th. grader. Like his Dad, he's no chicken. They beat the daylights out of him and was unconscious for nearly 2 days. At every opportunity he would pick a fight if things didn't please him and didn't give a hoot who his opponents were. Once when he went to school as a 12th. grader in Jember, east Java, the local kids thought this big town Jakarta kid was too stuck up for his own good (didn't pay the necessary 'respect' accorded to them), so 7 senior hi-school kids ganged up on him and knocked 3 of his front teeth out in the first week of school. He calls home for some money to fix his teeth, and Moms being what they are, asked all sorts of questions. After she finished talking Dad took the phone and asked him, "And what are you going to do about it?"
He replied, "I'll handle them." "Okay," his Dad says, "watch out for the knife in the back." "Okay Dad." 10 days later he calls in, and after reporting to his Mom, tells his Dad, "I took care of them."
"How did you do it?" Dad asks. "I went to each one of their homes, talked them out of any hostility, and now they look up to me as their good friend that they respect."
(Now, that's his version as he is now a diplomat. Diplomats don't go around brawling. But his Dad knows very well, that boys who gang up on one person are not the type to be talked out of anything. And certainly are not going to "respect" anything unless they are talked to in their language. And knowing from his previous history (since he was born, in fact) – and seeing – how he would seek any reason to pick a fight, the story was one by one he beat the hell out of them when he went to each of their homes).
But for this lifetime, he has to learn to cool it and hence, he is now a diplomat.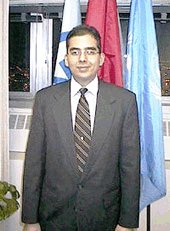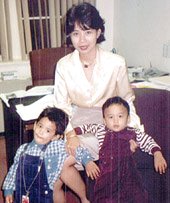 Better for his parents and his family, too. None of this thing like Great, great, great, great grand dad King Samber Nyowo's kill-the-enemy "life taker" reputation, Grand Dad's national freedom clandestine radio operations when he was once nearly shot as a "spy" by the Japanese, and his Dad's anti-communists missions. He is now a more sedate political officer at the Permanent Mission of Indonesia to the United Nations, New York. He also participated during Indonesia's chairmanship in 1998 of the Group of 77, the 133-nation grouping of the developing world, including on occasions as its spokesman. (Right photo, top, Arto's wife Dewi, their sons--Minou & Adji's grandsons -- Rimba & Sam, short for Samudra or 'ocean', Arto's office Sep. '98).
His Dad, Adji, is hardly briefed on what he does and finds out about these things from the internet. After that a U.N. diplomat in New York who works closely with Arto told his Mom when visiting New York in 1998, "Didn't you know he's pretty famous? He's our chairman!"
Arto is a good representative and diplomat for the Indonesian people (of whom 75% are under the age of 30 years totalling about 165 million people out of a total of 220 million population,the Statistic Agency stated in various 1997 & 1999 press reports), as elders and contemporaries commented to his parents.
He speaks perfect English, his name is well known among the English-speaking readers of English publications because he frequently publishes articles in the English and Indonesian press, and besides looking good as a potential future Foreign Minister, as Grand Mom Iran Malek Mahdavi Mousheri in Tehran commented, he is a nationalist -- which, in the mind of his Grand Dad and his old man, that's what it is all about when one is a diplomat.
He's also working on his post graduate degree after office hours, majoring in East Asian Studies in St. John's University, just like his Grand Mom, Raden Ayu Ambariah Arismundar, did as a diplomat's wife in Ottawa, Canada in the 1955s.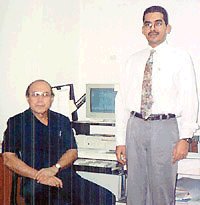 Prior to that he was at Indonesia's Foreign Ministry and assigned to the Office of the Non-Aligned Movement (N.A.M.) under Ambassador-at-Large, Mr. Nana Sutresna (left foto at the Foreign Office in Jakarta), who took Arto on international assignments. N.A.M. member nations now total 113. Grand Dad, who passed away October 1991, would have been pleased to know his grandson joined the foreign service, and very pleased Grand Dad's former junior colleagues (who are now the big wigs at the Foreign Ministry) took his grandson in as one of their own.
"Did you know that Indonesia ..."
Click on the sunset photo