There Is An After-Life: How Cyrus Communicated This To Us ...
continued: The One-legged Grasshopper
---
... continued from The Miracle Of The Ceiling Fan .
others ... The Airconditioning System • The Exploding Light Bulb
---
By Raden Adji A. Suryo-di-Puro –
Father & Grandparent - Jakarta, 28th. January, 2000
Jakarta, Indonesia...world's 5th. largest city in the world's 4th. largest nation where Cyrus was born ... where is it? Never heard of it? Please click here
---
It was a Thursday afternoon, June 24th., 1999, and we were at Cyrus' grave site. We intended to tell him that we won't be visiting his grave for a little while. We visit his grave once every Thursday, the day of his passing away, since he passed away on January 28th., 1999, at the age of 25 years.


It was a contradiction of sorts because we knew he was not there but his remains which he discarded (like an old T-shirt, as I always tell his mother, Minou, (right photo) every time we visit his grave and she cries her eyes out each and everytime thinking of him down there, cold and alone, under 6 feet of earth).

And he knows of our intent even at home. But it was the last point of reference we had of him and we could not help but go his grave site to tell him we will not be visiting him for about a couple of months.

We were leaving two days later for New York on Saturday, the 26th., flying through Europe by British Airways because Arto our 33 year old son (left photo), told us to spend a few months with him and his family in New York where he was posted as a diplomat at the Indonesian Representative Office at the United Nations.
He was telling us to leave our home so that we can lessen our devastation of loosing our youngest, Cyrus, because our home did, after all, carry memories of Cyrus. But in addition to this, I had a sneaking suspicion that he, Arto, wanted his parents, especially his Dad, to see that now with a family, he is no longer a child and is fulfilling his responsibilities as head of his own family. We all knew that, ofcourse, since the day he got married; but there is a difference between knowing and actually experiencing it.
To hear of being a grandparent through photos, emails, letters and faxes, and to

actually "perform" the activities of being a grandparent are two different things.
I saw one of the grandchildren when he was a helpless baby in 1996 in Jakarta where he was born. I couldn't do anything with him. Even my own son said I sort of fumbled around with his son (obviously because the last time I played around with babies was some 25 years ago when Cyrus, his younger brother, was born).
But the other grandchildren were born in London and New York, scattered all over the globe and I never actually played with them when they could respond. Now there are three. So, it was a new experience. And I looked forward to playing with my own grandchildren. (Left photo Samudra [Sam] with me, Grand Dad, July 1999 in some Bagel Shop, Forest Hills, N.Y. Sam the youngest grandson was born in New York, could have a "citizenship" or "greencard" but his father said "No. What for?" emphasizing his confidence in the future prospects of the world's fourth largest nation already known as the world's largest "tropical paradise", one of them the world-renowned island of the gods, Bali).
After sending our prayers to Cyrus in the Islamic faith The Al-Fatiha (The Beginning)
In the name of God, Most Gracious, Most Merciful
Praise be to God, the Cherisher and Sustainer of the Worlds,
Most Gracious, and Most Merciful
Master of the Day of Judgement.
Thee do we worship, And Thee we seek Thy aid
Show us Your way
The way of those on whom Thou has bestowed Thy Grace,
Those who have not received Your wrath, And those who have not gone astray
Amen.
we replaced the 5 inch (12.5 cm) wide potted flower on the mound with a new one which we do once every two weeks.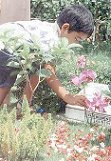 It was then that a little brown grasshopper attracted both our attention. It jumped from the flowered bush that surrounded the headstone into the potted flower we were taking home with us. I tried to remove it thinking it was better off in its own turf, but it buried itself deeper into the wilted flower pot wrapping its front arms into one of the 12-15 stems. So, I left him buried in the densely packed flowered stems (pictured on the left. Rimba, Arto's son, two years later placing some pink orchids on Cyrus's grave which the family sprinkled with rose and white orchid petals).
It was then that I also noticed this grasshopper had a missing left leg. Minou noticed my fiddling with the little creature and I told Minou about this missing leg and asked her, "It was his left leg that was nearly amputated, wasn't it?" (knowing which event I meant when Cyrus had a bad motorcycle accident several years back, but was fortunately cured from gangrene when she took him to Singapore).
She nodded. Deep in my mind, I thought it was just a coincidence that this little brown fella had one leg missing, and its left one at that. Kind of symbolic I thought.
On the way home, Minou placed the pot on the car floor between her feet. As soon as we started off, this little fella jumped from its pot into Minou's lap and then on to her right hand resting on her lap. She slowly lifted her hand, looked at the little creature, examined his right leg, and had a really close look at it. "Yes, his left leg is missing, (addressing it for the first time as a male grasshopper)" she said.
Both of us looked at each other, knowing in the back of our minds from reading dozens of books sent to us by concerned friends that a departed can "command" other creatures to do their bidding. And from other people's experiences they can be butterflies, other insects, and even deers as a bereaved mother in Arkansas once emailed me. Could it be him, our Cyrus "commanding" this little creature, I wondered?
Minou tried to put it back in the flower pot, but it jumped unto the dashboard, walked slowly to my driver's side and jumped right down under my seat. I thought, "How are we going to find him. Well, I'll let the household staff look for him."
The moment we drove into the garage I called the staff and told them, there is a little grasshopper on my side of the seat. Don't harm him and let it loose in the garden.
A few hours later I asked our staff. No, sir, we couldn't find him, they reported. I hope I don't find a little dried up grasshopper one day inside the car. That was that, I thought, and never thought about the little fella again.
Two days later in the morning of our Saturday departure, we started packing our cabin luggage in our bedroom. I was about to have my shower at 11 o'clock, when on the way to the bathroom, I noticed right on the tissue box on top of my night table, sticking out like a sore thumb standing on the white tissue, this same grasshopper! No, it couldn't be, I thought.
It was phsyically impossible for him to be there! First, this little fella had to climb out of the car, travel 3 meters and open a self-closing door from the garage to the living room hallway, and go up 25 flight of stairs to the upper living quarters totalling a distance of some 28 meters (92 feet).
Or, second, go out through the longer way of going through the service stairs to the staff quarters, open a self-closing door to the ironing room, then open another self-closing door to reach the same set of 25 inside stairs. Three, travel 31 meters (102 feet) through the hallway tv-room, choose one of 5 bedrooms on either side of the hallway, find the right room at the end of the hall, open our bedroom door which was nearly always closed, and travel another 5 meters (16 feet) to my tissue box opposite the bedroom door, a total of some 68 meters (206 feet) in all from the car, through various self-closing doors, navigate through sofas, tables and carpets.
We kept the pet dog and cat out of our 1st and 2nd floor living quarters, although the rest of the inside of the house was open to them. Even the pets didn't know exactly where our bedroom was, and never entered it because either one of the three self closing doors kept them out. Never mind a strange little grasshopper. And this little fella made his grand presence known by standing on top of white tissue, sticking out like anything and after passing all those self-closing doors. Amazing!
I tried to pick it up but its claws (if I can call it that) held the tissue firm. I called Minou and she picked him up with no difficulty and placed him on her palms. He started licking her palms and felt his little tongue on her palm. It was then she started talking to the little fellow.. "Oh look. He's licking my hands," she said. Even I could see that he was "eating" her. Her eyes glistening, she asked, "Is it you Cyrus? Or did you send this little creature?"
The little creature was literally trembling and wobbling on his legs and could hardly stand up in Minou's hand while licking her palms. "Maybe he wants to come with us?" I asked Minou. Maybe, she replied, the two of us aware that originally it was Cyrus who was to go to the U.S. to visit his older brother. Not his Dad who grew up there on and off since the '50s until 1964, and had no plans to visit the places where he spent his youth – until Arto put the idea of visiting him in New York after Cyrus passed away.
I then put him on top of my open cabin luggage, thinking of how I was going to take him with us. At first feeling a little bit silly, but the event of this little creature's sudden and near-impossible appearance in the bedroom made me go along with this "silly" intent. Maybe in a little vented plastic bottle that used to contain pills with some grasshopper food? And what do little grasshoppers eat, anyway?
But an hour or so later when I was about to close my luggage, he wasn't there anymore. On the way out to the airport, I said to our staff, find that little grasshopper I told you about, and when you find him, put him in the garden. I'll phone from Mas (older brother) Arto's place in New York in a few days.
But they never found him.
---