Besides, Adji was over 18 years, was therefore not entitled to a diplomatic passport, and Indonesia had a phobia about communists and was in no particular hurry to recognize the east German regime.

And Indonesia certainly did not approve of their citizens entering somebody's country to make trouble where they could not help because of non-existing country representation ... especially his Dad being a senior diplomat. Very embarrassing -- caught between a rock and a very hard place -- if something happened to the son.

So, as nearly all mission preparations were "go", so ... o.k. you can come, but ... the "buts" included she was a part of the backup crew with 4 other guys in different cars; she may not come near or be with Adji in public, must pretend she did not know him in Paris (where they had to get special equipment), Koln (where their vehicles came from), Bonn (for some other thing) and Berlin (east & west where they had to go through practice runs).

Adji had to be completely alone in continental Europe, especially in west Germany because the commies had spies all over (again informants who are common everyday folks whose relatives are still in east Germany and were willing to cooperate with the communists in return for freedom of their relatives still in east Germany); absolutely no public consorting with known operatives including Adji's own team, no companions, and especially no women companions because '15-year' olds did not have women companions in hotel rooms (remember, this was in the mid-'60s). This guy had to be as completely anonymous and low profile as possible. Except for his brown skin, Asian features and all, he couldn't be more conspicuous as a black eye in the middle of those German blondes. This conspicuousness, the impression of aloneness of a lost soul, was used considering that travel to the "iron curtain" as the communists were called then, was not like traveling to Hawaii or Bali for a vacation. It was plainly a place nobody, except another fellow communist, wanted to go to.

So after a lot of "bargaining" and "demands" (which lasted pretty much throughout their later lives because Adji pretty much let her have her way), one being she wanted to be in the hotel room with Adji when "nobody was looking", they agreed. Come to think of it, the team had not much choice either, considering the circumstances.

Anyway, after 6 months preparation for this specific mission Adji's team successfully smuggled out this east German woman scientist from East Berlin capping a successful 4th. mission The east Germans (through the prodding of the Russians) didn't throw her in a cell on her first three attempts because they needed her. Other escapees would get 20 years hard labour, the standard punishment. But as she was important to them, so she was pretty free to do what she wanted as long as it was in east Berlin.

Adji told Minou in a hotel room after it was all over in Wolfsburg, (the west German Volkswagen manufacturing town near the east German border), "Iam having the shivers" (cold chills running up and down his spine which he didn't have during the 6 days doing the job ... this guy was human after all), when remembering how the dry runs between west to east Germany, and dry runs between west to east Berlin and east to west Berlin failed miserably; how Minou got lost in East Berlin because she was all shook up because the east German border guards were hassling her and giving her a hard time (why go out to be mean to a young woman); how Adji, as planned, was observing this scientist from 10 tables away identified as a woman "using a brown coat with a flower on her lapel" at the Metro Cafe in east Berlin and watching 2 armed soldiers eyeing this woman in a crowd of at least 200 or more people (they were watching her to make sure she didn't try to bolt again--not the soldiers who were there to be seen and to be obvious), when suddenly Minou who was not supposed to be there at all from out of the blue comes stumbling to his table which he shared with two men (who Adji figured could be east German informants as far as he was concerned), trembling and sobbing tears from her big dark brown eyes recounting how she got lost for 2 hours all by herself in east Berlin because border guards forcibly separated her from the rest of the crew because she had a different passport, and how she just wandered the dark numbing cold streets of east Berlin, her hands nearly frost bitten (she left her gloves in the car) until by chance she remembered hearing the "Metro Cafe" near the train station from one of the team, and to heck with everything else ... mission or no mission.

So he dropped all pretense of not knowing anybody in east Berlin, comforted and held her; then back to west Berlin where a dry run also failed (Adji again alone) but this time making sure Minou didn't get separated from her companions, and then remembering how the Berlin plan was abandoned and another plan executed, which meant more hassles, involving traveling all the way to Leipzig in east German territory from east Berlin because it was timed to coincide with the Leipzig Fair in case something went wrong (which it did) where Leipzigers there looked suspiciously at every stranger as if he had done something wrong. Well, he was going to do something wrong anyway. The scientist lady in the meanwhile had to invent some excuse to leave east Berlin for Leipzig.

Then remembering how the backup team arrived 2 hours late just before the completion of the mission because it was imperative the woman had to be taken before 6 p.m., otherwise the guards who were on duty at night were usually smarter and that meant smart enemies just won't do; how the team had to leave East German territory first before Adji could leave, but because they were late (that was not a good example of German efficiency -- well, Germans are not infallible) stranding Adji and his scientist in East Germany.

The team had to leave east Germany first, so if the backup equipment didn't work and Adji got caught, he can openly admit he intended to kidnap this woman, admit had a support team because no '15-year' old had sophisticated equipment (there's no point lying about something obvious), and they are welcome to catch them if they could which they couldn't ofcourse because, he thought, they had left the country. Which they hadn't.

Adji didn't believe in going through this torture and confession rubbish if he got caught. It was a waste of energy on both sides, but Minou was the achilles heel if they got caught.

And if the team got caught that would mean Minou would be caught too ... she was not psychologically trained, and she didn't know or care about anything, except to be with her lover. One's mental agility and steadfastness (immunity to brainwashing) was important for this specific job. Not one's physical muscular attributes--which didn't do any good in the three previous missions anyway--because physical conflict was not expected, but well ... if needed ...

Then there was the blizzard at 6 p.m. that slowed down all mission activities just when it was being carried out (it was a freezing March), then Adji getting lost in the woods; thinking the scientist had died seeing her lying unconscious on the snow and he had to revive her (that's another story); then he was nearly shot in east Germany by some stupid jerk guard (they were all over the place, even in the middle of a small village) who didn't speak English. "So, I spoke Indonesian," he told her. "Better for this jerk to get confused, rather than speak German and then have to explain all kinds of things in German."

All these afterthoughts going through Adji's head after it was all over caused most of the cold shivers. Throughout their lives afterwards, if Adji and Minou was facing a problem and he was not around her, all he thought was her well being, not so much the problem (34 years is, after all, a long time and one is bound to have a few problems now and then).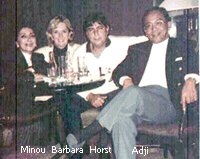 Anyway, life went on, and in the mid '70s this scientist become an American citizen a (west) German fellow operative and support team head, Horst P. said (left foto our second get together in Hong Kong Hyatt's Cin-Cin bar in 1994). It's a good thing you were not caught, he reminded, you would have been either shot, or spent 20 years in hard labor. Horst, after leaving his former employer later worked for a well-known German tire manufacturing company in Hong Kong as its representative in the mid '70s, till he decided to go off on his own. Adji never got the chance to ask him whether his rep job was truly a genuine job, or one of those undercover things to spy against the mainland Chinese because China (at that time) was a very closed society and was ripe for being spied on (which Adji knows Horst will answer truthfully).
He's now wealthy, owns a majority share and president of publicly-listed telecom manufacturing companies in New York, Hong Kong and Canadian stock exchanges, but is no longer muscular and has a tummy (and is even bigger), and thinks nothing of regularly losing every 2 or three months his new BMW 750s to Chinese smugglers who steal luxury cars in Hong Kong to sell to mainland China. His goal was to be "very rich" and he achieved it. As a middle aged 50-plus man he still drives like a madman, jumping into the opposite lane against traffic if his lane was jammed -- like he used to do in London. Everybody, operatives or not, have now become bald, fattish and just plain run down. Horst's state of mind, and of others in the team though was the same as before (that is their mental capabilities -- sharpened even more by years of useful experience -- can do such jobs again) but they can't physically carry it through. Well ... that's life.
Now that East Germany doesn't exist ... Adji doesn't worry whether he will be arrested if he goes to East Germany. Before East Germany broke up, it was too risky to return (even as a news agency journalist who was usually allowed to enter places where common folks usually fear to tread), and was warned never to return because he stuck out like a sore thumb and easily recognizable (there were not too many Asian operatives in Europe), just as he stuck out like a sore thumb in Moscow.
A few years later in 1970 the East Germans complained to the embassy in London, knew Adji's identity, and Germans being pretty thorough, knew how Adji did it. (Dad had left London sometime ago). Indonesian Ambassador to England Air Marshal (4-star Air Force general) Rusmin Nuryadin told Adji in 1972

without a hello or any greeting, except: "...so, you're the trouble maker?" when he walked into his office for a visit after arriving from Jakarta.
"What trouble? I just flew in from Jakarta, just arrived from Heathrow (London airport), took the taxi to the Embassy. That's it. I didn't do anything! "
"There's this report about your adventures in east Germany ..." , he continued, pointing to some papers on his desk.
"But that was in the mid '60s," Adji said. (Right driver's license foto, late 60s early 70s)."I didn't think they'd discover it."
Apparently they did, and complained about it which is silly because a government would normally never admit they had one done on them. It must have really hurt them. But they can file all the complaints they want. After east Germany ceased to exist in 1990/91 it became irrelevant anyway.
Adji hopes wherever this lady of science is in the States, she will always remember him, did the things she was freed for, and hope she's having a good life. He feels he did his bit for the German people in their decades long struggle for unity. Perhaps, if by some very remote chance this lady visits this homepage and remembers, she would drop Adji a "Hi, how are you?" note.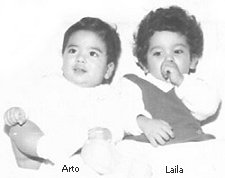 After adventuring all over Europe (as a journalist), Germany was Adji & Minou's first home together after east Berlin, and was the birthplace of Minou and Adji's first two babies Laila and Arto when he transferred to Koln from Paris as news editor for a foreign news agency--not realizing, then in cold east Berlin, that he would one day return again to Germany with Minou to create a family. I guess one can say Germany repaid Adji's efforts because Germany was kind to them. (Right foto Arto and Laila 1967 Germany. Lower left foto, Cyrus*, 11 months born in Jakarta, with his nurse and Mom).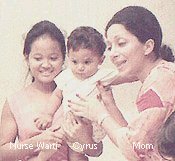 Reflecting back, imagine New York, London, Tokyo or Jakarta totally and completely surrounded by a wall ringing the whole city and split in half down its middle by another 5 meter high concrete wall that not even a cat could crawl through, watched over by overlapping machine gun towers every several hundred meters throughout the city -- through streets, woods & parks, through buildings, through the underground railways -- ready to shoot at anything that moved including rabbits, like a large scale city prison ... just couldn't get over the arrogance of those communists dictating how and where one lived.
It's difficult to describe it. One has to be physically there, to feel and breathe the suppression and fear of those poor east Germans. Imagine reading a book on how to fly an airplane, and then without any experience actually sit in the pilot seat, the first time, and then try to fly that plane because there is no choice but to fly it (no choice but to live there). That is the kind of fear a suppressed citizen feels, that doubt whether one will land that plane safely and make it (whether one can live freely) or not.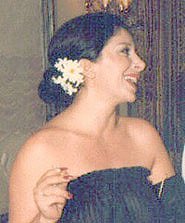 When east Germany broke up, Adji and Minou were living in Jakarta and watched its breakup and the dismantling of the Berlin wall on satellite TV with their grownup children. Adji wondered what they were going to do to those east Germans "officials" who did not really have to shoot and unnecessarily kill wounded east Germans trying to escape. The "human rights" and "war criminal" attitude was not yet as strong as it is now in the '90s. Adji had his views on it, but it's not nice to express it.
"Did you know that Indonesia ..."
Click on the sunset photo