Losing an offspring like our 25 year old, Cyrus, is a devastation NO parent will ever know, unless one experiences it. It is far more devastating than losing one's own parents, spouse or siblings.

. An Eulogy to a departed Son
Eulogy in Bahasa Indonesia
God said: "I'll lend you my Child..."
A Friend: Tell me about Cyrus
Friends: My Heart Breaks for you
Our Son in the other Dimension
The Do's and Don'ts In Facing Bereaved Parents Published List on After-Life, Near Death Experiences & After-Death Communications
In memory of Cyrus' 1st. Anniversary in the Other Dimension - A Music webpage
After-Death Communications is Real
-26 Aug., 1999
A Prayer for our Son & all other departed children

---
List of International Schools
In Cyrus' Memory




suryo@email.com
The writer is a Member of



and a former journalist & editor with the AFP & Antara News Agencies in London, Paris, & Koln in the mid-'60s
There Is An After-Life: How Cyrus Communicated This To Us
---
| | |
| --- | --- |
| The Miracle Of The Ceiling Fan | |
---
By Raden Adji A. Suryo-di-Puro –
Father & Grandparent - Jakarta, 26th. August, 1999
Jakarta, Indonesia...world's 5th. largest city in the world's 4th. largest nation where Cyrus was born ... where is it? Never heard of it? Please click here
---
It was a late Wednesday evening, August 25th., and we had just flown in from New York. The New York to London leg was 7

hours; 3 hours stopover in London to change planes, then London to Kuala Lumpur was 13 hours. Another 1.5 hours stop over, then the Kuala Lumpur to Jakarta leg was another 2 hours. A total of 26.5 hours of exhausting no sleep trip that finally brought us to our Jakarta home at 8 o'clock at night. We missed our Jakarta home. But it was also not something we really looked forward to, lovely as it is, because this home also brings very sad memories. Sad memories of our departed Cyrus, our youngest son, who would welcome us home. Or seeing him sitting in front of the TV and him saying, "Hi Mom, Dad" (right photo, August, 1995) when we walked up the stairs some late evening, or seeing him and his friends at the terrace sitting around, talking and making the kind of sounds that youths in their mid-20 make. We knew that it was not going to happen again, ever.

We unpacked, sorting out which clothing went in whose cupboard, and which part went where as we had bits and pieces of electronic equipment and some kitchen utensils. But somewhere in the back of my mind, I wanted to go to Cyrus' room. I knew he was no longer there, but it is hard to break a habit of 25 years just like that, especially the urge parents feel when they want to see their children after being away. In the eyes of parents, children no matter how old they are as long as parents are referred to as 'mom' and 'dad', in the hearts of parents they will always be their babies.

I knew, too, that his Mom, Minou, was dying to go to his room, wishing against all that is known to us that perhaps by some sort of miracle, he would be there. But she knew that he's not going to be lying on his bed reading as he usually did. But just to see his things where we left them two and a half months ago as we both knew, he is not going to be in his room. He is no longer with us in our dimension because he passed away on February 28th., 1999, at the age of 25, the age when children of 25, a young man really, was already making his mark on this world.
We Wanted To Know If He's Okay, and We Wanted Him To Give Us A Sign. He did ... in less than 3 Minutes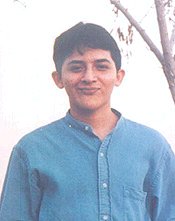 Thinking back when he was still with us, he not only created his own unique society, but he became our friend where we could talk to him as another adult because he was no longer a child, and even tell us of his experiences which we never experienced. It would choke us with sadness, everything time we think about the things we missed with him. Our other children are now busy with their own lives, and what with families and all that going up their ladders of professional achievements decreasing even less their time with their families, more so with parents who have really finished doing their job as parents taking care of them, it is rare we talk except to talk about families and little children which is the normal thing. And even that doesn't happen frequently because they are scattered. (Cyrus, right photo, when he was 23 years of age in Tehran, feeling smug about something ... perhaps renewing his attachments as a half Indonesian-Persian

We went to New York because our son, Arto, 33, is a diplomat – the Second Secretary, four ranks under an ambassador – at the Indonesian Permanent Representative Office at the United Nations. Arto and his two boys of three and half and two and a half years of age and his sweet wife, Dewi, would be just the thing that would lessen our sadness. (Left photo, Laila, 34 years, Cyrus' older sister whose birthdates Nov. 9th., both shared except with 8 years difference).
Yes, especially our two grandsons, did lessen our grief everytime they were around us. But they were not always around. In the middle of Manhattan, or in the middle of Forest Hills just the two of us, Minou would sometimes feel Cyrus' presence with her. Sometimes with the feelings of his presence she'd have mental communications with him, many times bringing to her "new insights" which to her was a revelation, which in her mind did not come from her imagination because they were new to her. His kind of presence is when you know someone else you know and love is there with you, and when you turn around, he or she is there. One can feel this presence, like when someone is staring at you in some sidewalk, and you turn around and see this person staring at you. But with Cyrus, we knew he was there, but we couldn't see him. Minou would often call the two grandsons, one in particular, Rimba, by Cyrus' name. "Cyrus", she would say to Rimba without thinking, "come to Mummy," then correcting herself. They refer to her as "mummy" and I as "daddy" because they hear their parents call us mummy and daddy. The boys' father, Arto, Cyrus' older brother, once even addressed his own son, Rimba, by Cyrus' name. Cyrus' presence is strong, and members of the family inadvertently sometimes address other members by his name. (Right below, Rimba, Dewi & Samudra [Sam], N.Y. Aug. 1999)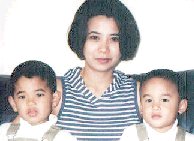 New York, London, Washington, D.C. and all the places we went to were intended to heal us. In a way it did. But in another way the different scenery of these towns did not make a difference, and instead brought home the reality that no matter where we were, we are missing something. It was not, as some friends thought, we are there "having a great time". Hard as we tried, many times the sadness just squashed us.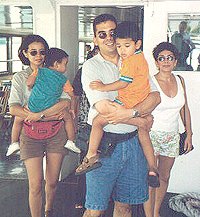 Returning to New York some 35 years later in June, 1999, had very subjective attachments and memories of returning to the old home town because I grew up in the U.S. since the 1950s, and was there on and off until 1964 where I was once a Fulbright Scholar. But one does not blame these friends really because they have never gone through this sadness, and all the explanations given until one turns blue in the face, will still never bring home the reality of what bereaved parents feel. While some of these friends mean well, their statements of assurances meant to heal, sometimes instead hurt. (Left photo, on one of New York's ferries, July 1999. Dewi holding Sam, Arto with Rimba, and Grand Mom, Minou).
For example, referring to the passing away of their parents or their best friend's wife and saying to us, "We know how it feels." I know how it feels when both parents and one's own sister passes away, because they have. The death of one's own child is completely different, and much, much more painful. It is not some friend's wife, and painful as it is when a parent dies, the death of one's parents does not compare. For one thing, a child buries his parents; not the other way round. A child's death is painful enough that one is willing to commit suicide, if not common sense and other realities did not take over. But it is not their fault. They have never experienced it. To be on the safe side towards friends who lost their child, please visit the web page, The Do's and Don'ts of Handling Bereaved Parents. This is based on our experiences as bereaved parents facing friends, acquaintances and complete strangers. It also includes "why" bereaved parents years later say "we're okay", but in reality they are just saying it to hide their pain.
Advice on this page are exactly as described by psychiatrists and those in similar professions in many other internet web pages I came across, except they do not elaborate the details of how bereaved parents got to feel this way because most of these professions simply playback their patients feelings, not really experience their pain.
That same evening after we got some of the things straightened out and placed where they should be, I unlocked Cyrus' bedroom and glanced through it, finally satisfying my desire to be with the things that was once a part of himself. It's hard to describe: one wants to be with that person, but as he is not there, and will never be there again one settles with what used to belong to him. It was exactly the same way as we left it two and a half months ago. Even when one of his friends visited our home one afternoon when we were away, the household staff said, he spent two hours praying in his room and chatting with them. After that, it was locked again our staff being with him at all times. Since he passed away in January 1999, his AC, his ceiling fan, and lights were never touched because no one had a reason to use them.
At midnight, we both went to bed, exhausted after a near 27 hour non-sleep trip. At 2 am, I heard the bedroom door close quietly, accompanied by Minou's quiet sobbing. I knew she would go to Cyrus' room. After waiting 10 minutes and she did not return, I got up opened the door and saw no one in the hall and hall TV room and thought why is she taking her time to go to his room?
I went into Cyrus' room where Minou was sobbing as heart rendendering as any mother could be. I looked at her. In my fleeting thoughts were, here is a lady who spent 35 years with me. I knew her when she was in her early 20s and now in her autumn years, through thick and thin, even of involving her to the potentials of getting her killed when, still unmarried, she insisted on being with me in my last job as an operative in east Germany where after a 3rd. attempt against the KGB and east German intelligence to get an east German woman scientist by other western operatives, I got her out on the 4th. attempt.
We went through what all normal couples in their late 50s went through, children, grandchildren, making a living which all other couples involve themselves in – including other events in our lives which normal couples do not usually go through – that a German friend (Gert V.) who knew us inside out for the last 20 years told me referring to certain past events, years before Cyrus passed away, "Adji, if I went through the things you went through, I would kill myself."
But even what my German friend said to me about his committing suicide were he in my place, it is still nothing compared to losing our Cyrus. I would go through all those events again which my German friend tells me he would commit suicide for, just so as not to lose Cyrus. But ofcourse, one cannot bargain with God, so ...
She went through it all with me, a whole lifetime, for which Iam grateful. Looking at her in his room, sobbing and completely crushed, was something I could not bear.. even though I saw her sob many times for her son.
She was touching his things on his table, touching his photos, clothes which did not fit inside his cupboard, kissing them. I went to her and hugged her tight, crying for him and for her who bore him for 9 months and took care of him through illnesses and health, good and bad times, until he became an adult, and I, too, had tears flowing down my cheeks.
While hugging her she cried out, "Cyrus, is there really an after life? Are you okay? Really, really okay? Please Cyrus tell us. Please give us a sign. Give us a sign you hear us. I need a sign from you. Cyrus, please! Please tell us if you hear us!"
I continued to hold her tight, and in my mind I thought, too, "Yes, Cyrus give us a sign. Give us a sign you are okay" but also a fleeting thought of "how is he going to give us a sign?" I wasn't really counting on one; perhaps in one of our dreams, or something which one of us would experience psychically. And no matter how hard we would try, we cannot really convey to the other "the experience" as only one of us experienced it.
Tears dripped unto my shirt, thinking of him and missing him, thinking of all the things we could have done together as our other children are doing with us. I then sat on his bed with all his things around us, unhappy for her and for myself, and looking at Minou by then going through his cupboard and touching the things in them,.
A shadow ...
Suddenly, I saw a shadow move, very slowly, across the wall opposite me on the top fringes of my sight. I looked up at the wall and saw it came from the fan blades – the fan blades in the middle of his room started to move. The alarm clock on his table showed it was 2:20 am.
At first, moving as if a wind was blowing it. Right away I turned and looked to the right at his curtains to see if his windows were closed. His windows were closed – ofcourse they were closed, I thought. I looked at his door, left ajar about half an inch when I walked in. It didn't open wider.
The fan continued to move slowly, at first one revolution just as if the wind moved it. There was not even a slight breeze. And then it moved another turn, still very slowly its shadow moving across the wall. I looked again at his light see-through curtains to double check his windows and, realized again, ofcourse all his windows were closed for the two and a half months we were away.
The fan was not moving the way if it was switched on; there would an energy, a subdued electrical "thump" which was not happening here. All these thoughts took place in a fleeting moment.
On the second turn when I realized that there were no wind, I turned to Minou who was still touching and caressing his clothes in his cupboard and said, "Look! Look at the fan!" She turned around, looked up, gaping at it and saw it continue to move, but this time moving just a little bit faster, its shadows still moving very slowly across the walls. She looked in amazement, and suddenly both she and I realized this was the sign we were asking Cyrus to give us – that he was alive, that he could hear us and that he was okay. It took him less than 3 minutes to fulfil his mother's request!
It is impossible to describe our reaction when this happened. Jumbled feelings of joy and sadness came tumbling in, all mixed together. And we cried. And hugged each other, ecstatic to know he is all right and he responded from the other dimension – and right away for that matter. He couldn't have responded any faster even if he was physically here.
From the so-called "scientific" point of view, the fan was obviously switched on. His ceiling fan was used occasionally when for some reason or other, his air conditioning did not work then it was switched on. But to turn that fan on, one had to climb on a stool (a chair was not high enough), and pull its short 6-inch string that was attached on the on-off switch. It was a hassle, but to a young man like Cyrus it was no problem whenever he had half a dozen of his friends and the AC couldn't handle the extra heat when 6 or more people occupied his room.
Three days later after pondering the "fan event" because there were "other after-death communications events" that he communicated to us, I said to Minou: "It is best we do not ask him again if he is 'alive'."
Why? Because to him, I think the fan event was a spiritually difficult achievement, a physical achievement that can be likened to him achieving something of significance with great effort in this dimension.
By asking him again and again if he was alive could mean that it is like not believing him. He may be hurt, and we don't want to hurt him by thinking he no longer exists, that he is only our imagination.
We must have faith that he is alive. He showed us that the first time when he suddenly smiled in front of dozens of witnesses his Mona Lisa-type smile 18 hours after passing away telling us that he is happy; that he is alive, except we cannot see or feel him with our 5 physical senses.
And besides he told us in so many other ways. You have to believe that each time we go to his grave, and you sob your eyes out you must not think of him lying there all cold and alone. You upset him! It's not him down there.
Yes I know, it was the only way we remember him by. But something drove his remains and that "something" is his soul, his essence, I said. His essence, his being, is still around even though his body is not.
His remains is like an "old T-shirt" which we associate him with which his spirit occupied – and moved, which he threw away. That "T-shirt" is not him any longer, I repeated.
He told you that once, didn't he? Remember ... that third day it came into your mind, your thoughts? That it's not him down there! That he is standing right next to you on his graveyard ... that he's upset, when you're upset just like when he was still 'alive' and could still touch him ? Remember?
Besides, I continued, what makes one think that "our imagination" is not communications from the other dimension? It makes more sense when we get an inspiration, a new idea, or whatever that sometimes are outlandish, that it actually came from the other dimernsion – a communications from the other side? Why not? Where did all these come from? Many times we all get ideas that we never thought about before, much less experienced.
We have to believe that, I said.
She agreed.
---

See also other unexplainabled events. Please click here.